The WordPress Toolkit which comes with our Plesk hosting platform is the perfect tool we have all been looking for. Easy to use, check security issues, update, delete or install plugins, themes and core as well as many other powerful tools.
Installing WordPress
Login to your Plesk Control Panel and select WordPress on the sidebar. For this post, I will be using the domain name wp-site.eu for demonstration purposes.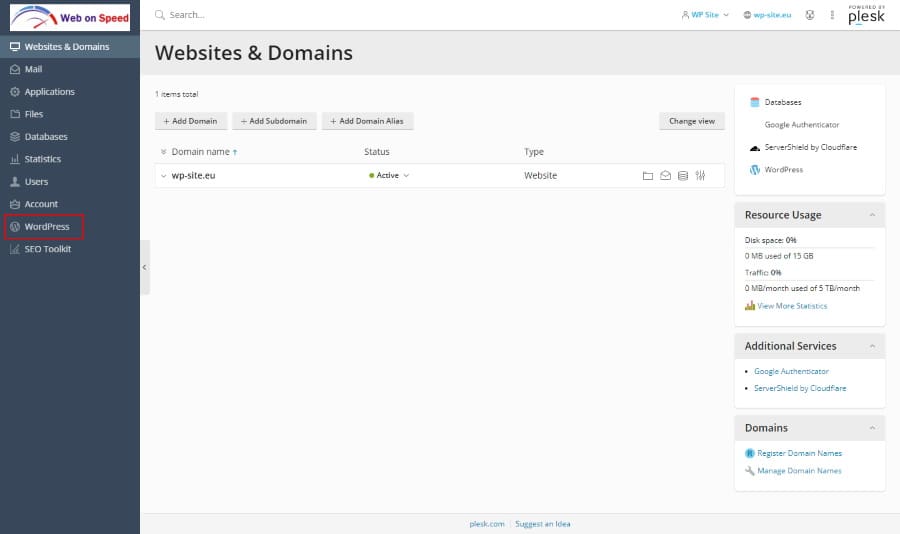 Select WordPress in the sidebar as marked out in the image above.
If you already have WordPress installed then you will be presented with your WordPress site toolkit manager. If you do not have a WordPress site installed already then select install to get started.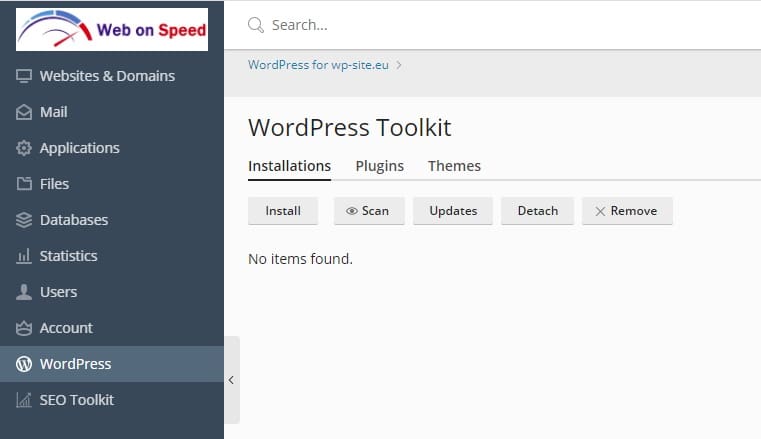 Select your domain and web URL you wish to install WordPress to and fill-up the form that matches your website needs.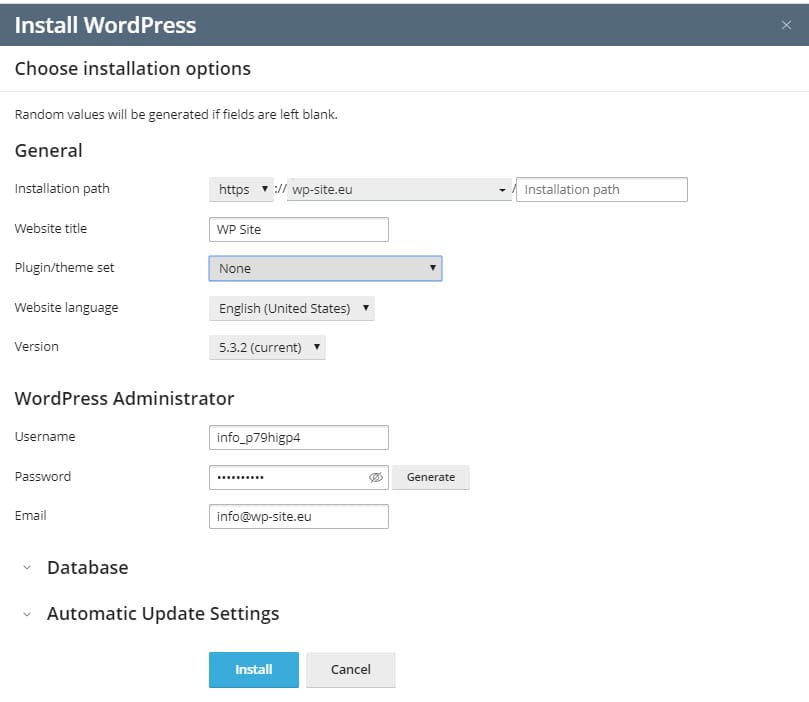 We need to wait a few moments for the new WordPress installation to complete.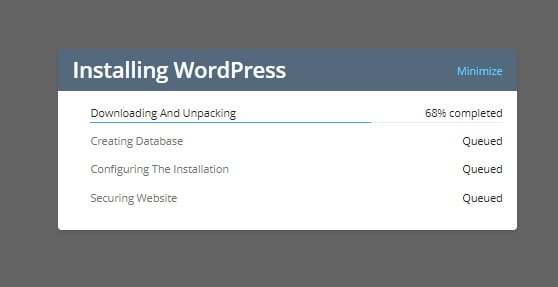 Once WordPress has installed you will be able to see the new website via the WordPress Toolkit. You can see SSL/TLS Status, Security Status and if there are any updates available for your WordPress site.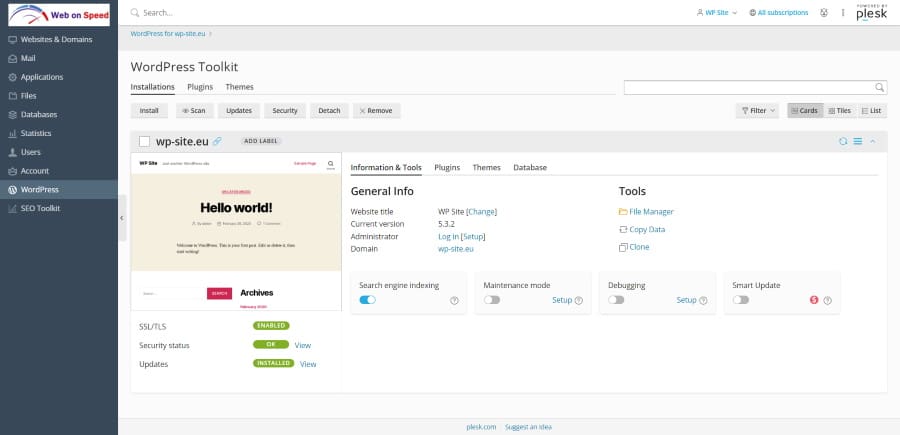 Installing Plugins
Click on Plugins and you should see the default WordPress plugins, Akismet and Hello Dolly. Let's install a plugin from the Toolkit, select Install and you will be presented with the WordPress plugins repository. Here you can search for free plugins from wordpress.org directly from the Toolkit or you can upload a plugin you have on your computer.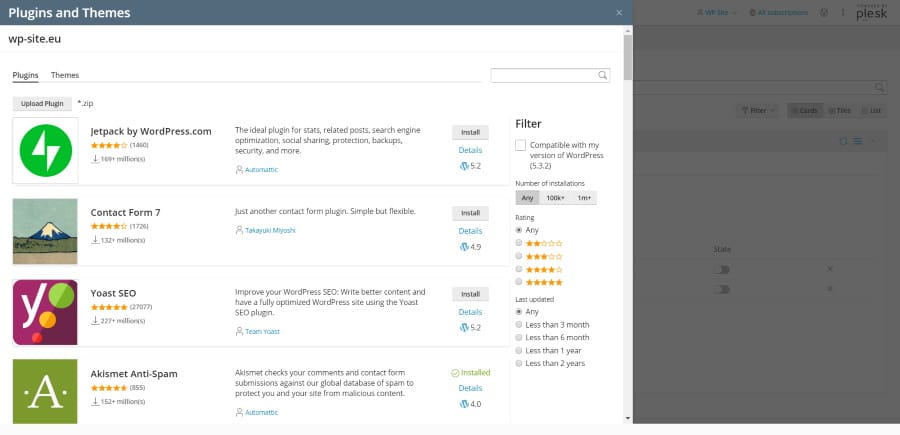 I am going to install Elementor for our demonstration, so enter Elementor in the search box in the top right corner. Next click on Install next to the plugin.


Wait a few moments for the plugin to download to your WordPress site and complete the installation. When the installation is complete the plugin will be activated automatically.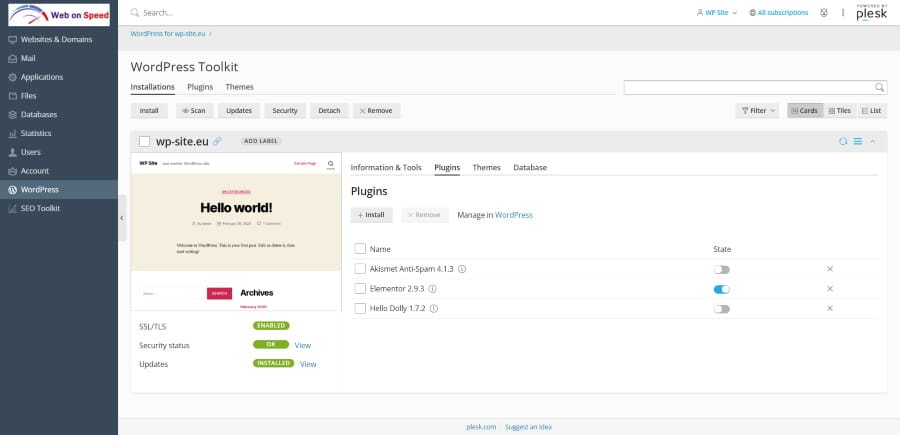 Selecting or uploading a theme for your WordPress site is exactly the same as how we installed the plugin, just simply select Theme, install and from there you can search the WordPress repository or upload a premium theme from your computer.
Search Engine Indexing
We can tell Google and other search engines to stop indexing pages on the WordPress site. This is particularly useful if you are developing a new website that is not yet complete.
Maintenance Mode
If you will be doing some maintenance works on the website then setting maintenance mode on within the Toolkit will display a maintenance page template to visitors to your website. Very useful if you are getting errors on your website or are conducting works that may interfere with the smooth running of the WordPress site. The default Maintenance page is shown in the following screenshot.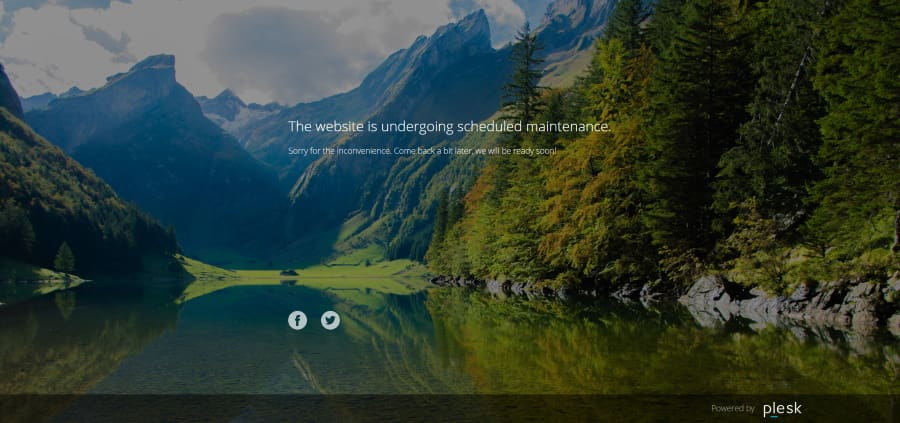 Debugging
If you are developing a new WordPress theme or plugin then debugging mode will show PHP errors that helps you get on with your coding. This is the same setting as setting define( 'WP_DEBUG', true );
Our Plesk hosting plans start at €5 per month, you can also request a free 30 day trial but submitting a support ticket or emailing us info@webonspeed.com